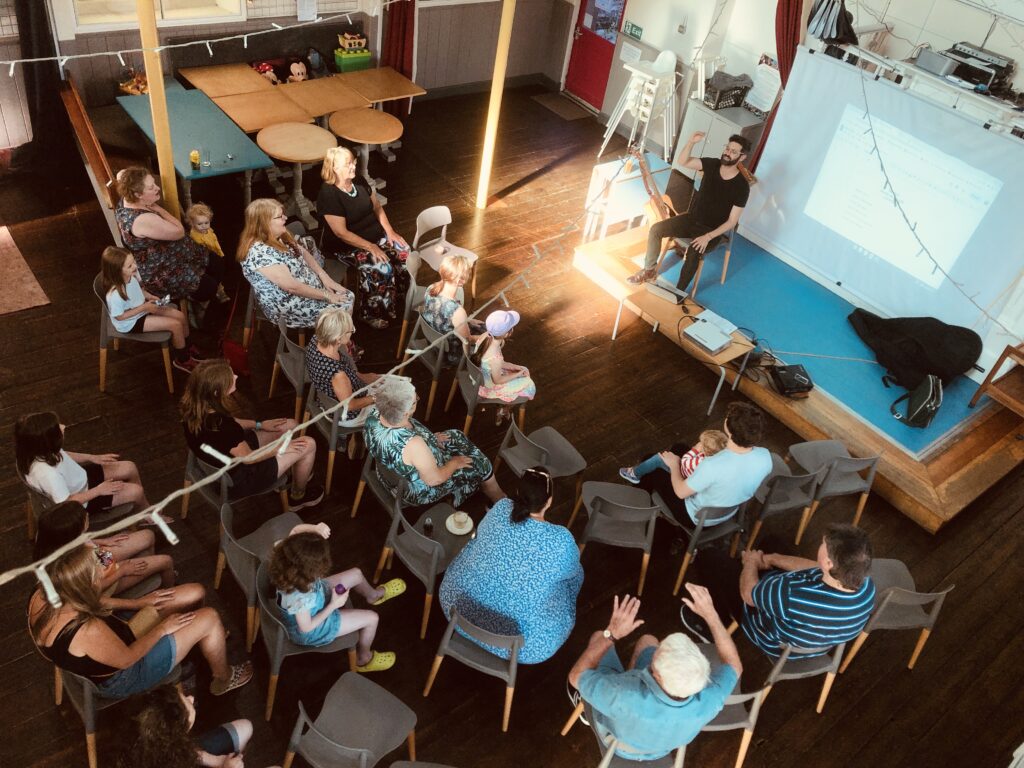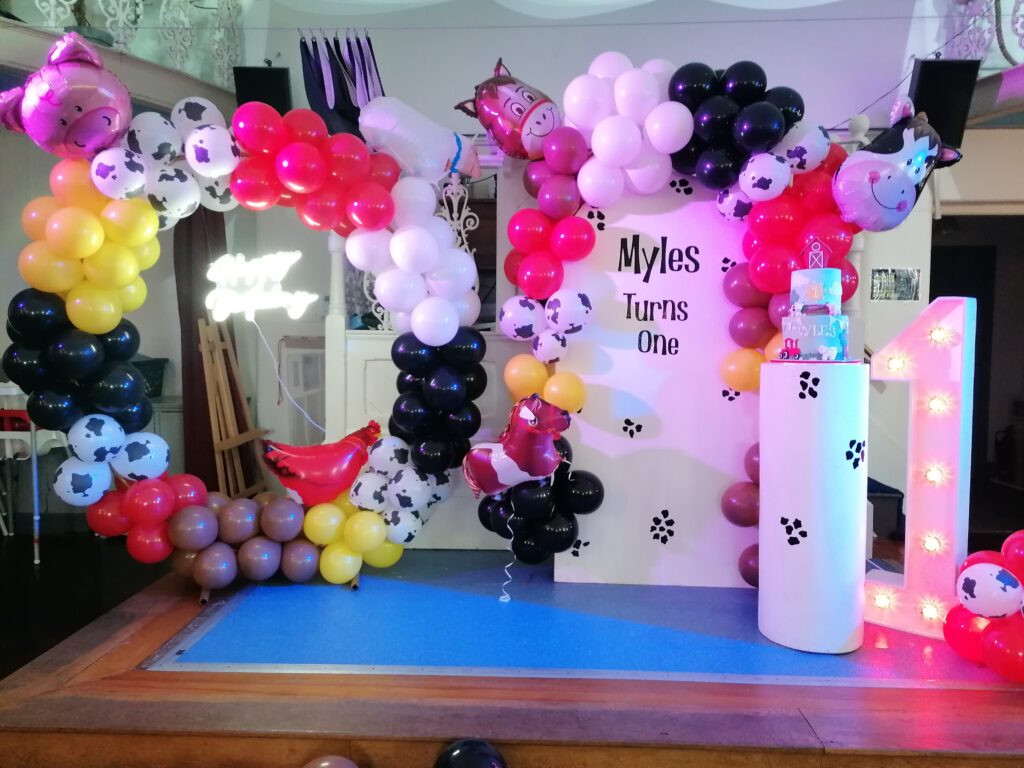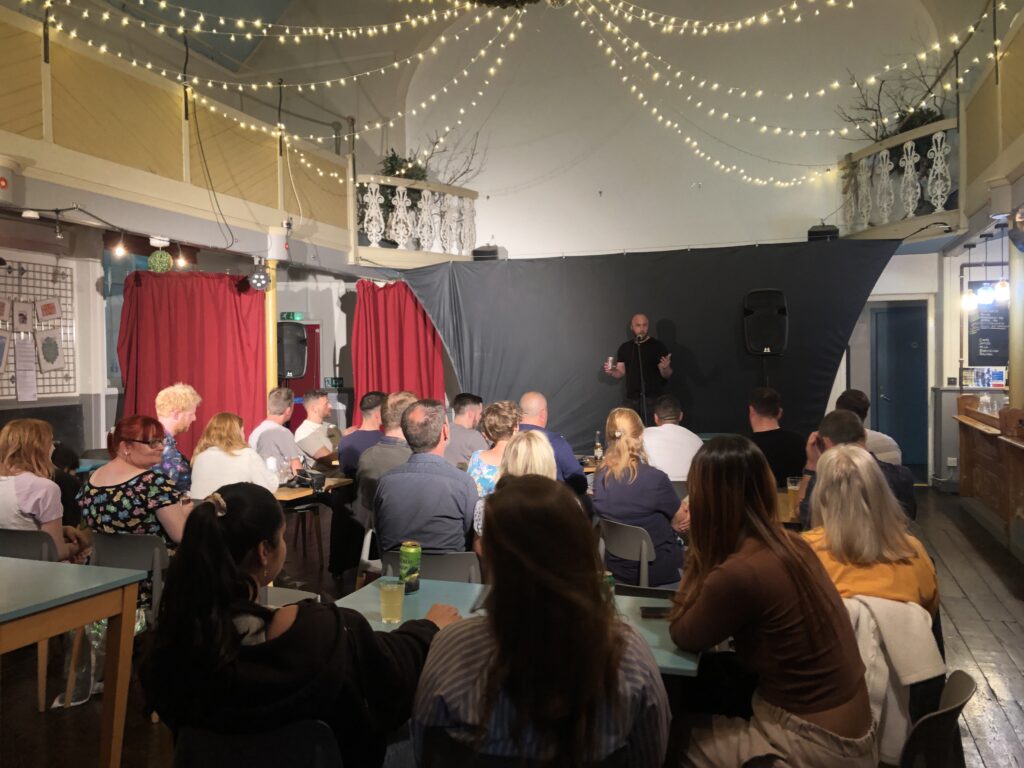 Looking for a friendly and versatile venue?
Then Zion may be the venue for you
Baby Shower | Kids Birthday Party | Adult Party | Anniversary
Theatre Show | Wedding | Live Music
If you're looking to hire a meeting room, office or studio space, head over here to check out our other rooms.
If you're looking to have your Wedding at Zion, see our Wedding packages here.
Day Time Weekend Hire
£145+VAT for a party either 10-1pm or 2-5pm
(Includes 30 minute set up time, and 30 minute set down time within time frame)
£45+VAT non refundable deposit to hold the date (An invoice will be sent)
Remaining amount due 4 weeks before event
Evening Weekend Hire
£290+VAT straight hire with no minimum spend on the bar. 6pm-Midnight
(Includes 30 minute set up time, and 30 minute set down time within time frame)
£150+VAT non refundable deposit to hold the date (An invoice will be sent)
Remaining amount due 4 weeks before event
Want an extra hour?
If available, you can extend your booking for £30+VAT per extra hour
FAQ
Does the hire cost include bar staff?
Yes! 1 or 2 staff members will be working your event depending on the time of the event.
How many people can I invite?
Our maximum capacity is 100 people Standing or 75 people seated.
For children's parties, we ask for a maximum of 30 children.
Can I decorate the venue?
Yes, Absolutely! Bring bunting, fairy lights, balloon arches.
Just remember you'll need to get the decorating up before your guests arrive and get everything down within the 30 minutes pack down time.
Can the fairy lights be on in the winter months?
Over the winter months (Normally the start of November to the start of March), we have a white heat cover up, so keep the heat lower in the building. We put the lower level fairy lights on – see the picture above – when the cover is up.
Can I play music through your speakers?
Yes, you can either use our tablet to pick a playlist from Spotify or bring your own device to plug in to a mini jack end.
We recommend using a computer to make the playlist 'public' on Spotify so you can find & play on our tablet.
Can I bring my own food?
Yes, you can bring your own cold catering as a buffet. There will be a £15+VAT self catering fee
You will need to bring your own plates, cutlery, napkins and table cloths.
You won't be able to use our kitchen.
You must TAKE AWAY your rubbish and food waste, as our external bins are not big enough
Can I bring my own drinks?
No, our bar will be open for you and your guests to purchase a large variety of drinks.
Hot drinks: Tea's, Coffee's, hot chocolate
Soft Drinks: Coca cola, lemonade, kids soft drinks, squash & more
Alcoholic: Spirits, ciders, beers, wine's, prosecco and shots
Alcohol Free: Becks Blue and Prosecco
Can I rearrange the room?
Yes, we can clear all the tables and chairs – or some or have in any configuration you would like.
You can use all of our tables and chairs.
We also have additional trestle tables which can be used if needed
Do I get use of the garden?
Yes, on evening's till 10pm
Can I hire a band or DJ?
Yes, you are welcome to hire a band or a DJ, they will need to bring their own PA equipment and do sound themselves.
Please note, they can only get in to set up from the start time of your hire.
Do you have a sound limiter?
No, we don't have a sound limiter, so live performers won't be cut off with a volume limit.
Can I hire entertainers?
Yes, but they will need their own insurance and risk assessments.
Please note, they can only get in to set up from the start time of your hire.
When will last orders be for an evening party?
11pm is last orders, guests of the party will need to be out of the building by 11.30pm
Leaving 30 minutes for packing down, so the organisers are then out by midnight.
Do I have to pay the VAT?
Yes, Zion become VAT registered as of the 1st November 2023, and so we must charge VAT on all venue hire with bar staff, extra hire costs, alcohol and food price. Registered Society number: RS0008818. VAT Number: 448 6130 85
Want to check our availability and confirm a booking with us?
Email: Bookings@zionbristol.co.uk
Zion was the perfect place for our Ceilidh party! Several of our friends commented on how beautiful and friendly the venue was, and the band said it was a brilliant place to play and couldn't believe they hadn't been there before. We had a brilliant time dancing and there was space for catering too. Alex was fantastic at the bar and helping us set up. Decorations were easy as the hall already has pretty sets of lights set up and we were able to decorate the stage backdrop. We also made good use of the outdoor space which has picnic tables and a 'boat' gazebo for kids to play in. It was enclosed so brilliant for toddlers running around. Thank you so much to Rosa for helping us to organise our event.
Deborah – Afternoon Hire for Family Celebration – August 2023

The venue was lovely and Rosa was so helpful, making us coffee whenever we asked, sorting out the air conditioning etc. Our overseas visitors thought the building was amazing. We would definitely come back.
Karen – Yoga Teacher Day – June 2023

A lovely venue which was perfect for our event, which was a memorial for my father.
Hazel – Memorial – June 2023

"It was totally excellent. Everything and more that we could have wished for. The space, the vibe, the music….the whole shebang…helped us move towards the end of SBES with joy! Thank you"
Evening Hire for Networking Event – February 2023

We had a surprise engagement party at The Zion and it couldn't have gone better! We walked in and they had set up everything as we'd asked for, and then helped us put up our decorations. Alex and Jess were friendly, kind, and super helpful – nothing was too much trouble. In truth, everything was perfect and we couldn't have asked for more! Our guests had a fab time too. Thank you! 
Abby & Sophie – Surprise Engagement Party – July 2023

Just wanted to drop a quick message to say thank you to you and the team for a great party on Saturday.
The whole process has been really straightforward and I've been very grateful for your swift responses to my queries. The staff on the day were absolutely incredible – really easy to work with and took the pressure off so I could relax and enjoy my party.
Everyone had a great time, so thank you very much for making it happen! Will definitely be in touch when I'm planning my next event, 
Amelia – Evening Hire – June 2023


Thank you, we had a brilliant time and a really nice venue for such an event, would like to thank the bar staff for looking after everything.
Kevin – 60th Birthday Party – Feb 2023
Thank you so much for a wonderful party. Everyone loved the staff and the venue. 
Louisa – Private Party Hire – Oct 2022