Zion, The Community & Regular Events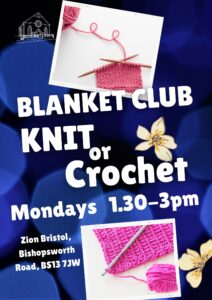 Blanket Club
Monday's 1.30-3pm
Come on down to Zion's warm and welcoming cafe for Blanket Club where you can knit or crochet! Bring your own needles/ wool or use ours.
Be there and make a square!
All welcome
Free
CRIBBAGE
Monday's 1.30-3pm in our Andy Lewis Community Room
Come on down and play cribbage!
All welcome
Free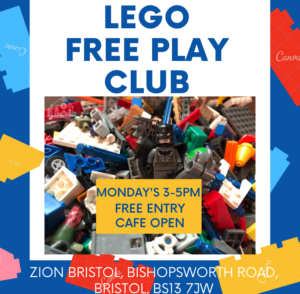 LEGO FREE PLAY CLUB
3-5pm Mondays
Come on down to Zion after school and use your imagination playing with our large box of Lego.
All welcome
Cafe bar open
Free entry
NAOS PILATES CLASS with Charlene
Monday's 5.45pm-6.30pm
Charlene Williams
hello@naospilates.co.uk
07979755254
Instagram: @naos_pilates
Email: hello@naospilates.co.uK
Facebook: Naos Pilates
Contact Charlene directly to book on, bookings in term blocks. 
YOGA with Claire
Monday's 7-8pm
Yoga with Claire, a gentle all round yoga flow suitable for all levels, including beginners.
Join Claire as she takes you through an hour of yoga that will help you find a sense of calm and balance. Starting with some breath work and building up to some more fun poses and creating a sense of peace at the end of practise to help you carry on with your evening!
Adjustments are offered throughout the class to help you find what feels good for your body and on that day.
Claire aims to make the class welcoming and inclusive to all, to help you relax but feel the benefits of a well rounded yoga practice and offering some advice how you can carry on at home.
Everyone welcome, please bring a mat, a blanket and wear what feels comfortable for you. And mostly, enjoy the class and dedicating some time to yourself during these busy times.
Doors open : 6.45pm
Bookings in termly blocks – work out at £6 a class.
Buy from Eventbrite or from the cafe
Music Classes for under 5's – Little Piccolos (Term Time Only)
£3 a child, payable on the day 
9.45am- 10.15am – 3 Months- 2 Years Old 
10.20am- 10.50am – 2 -5 Year Olds
Little Piccolos music classes are packed full of original songs, moving to music and playing musical instruments. Each 30-minute class teach under 5's about the fundamentals of music in a fun and accessible way. You don't need any past musical experience, just wear something comfy to move around in and enjoy singing along!
Our classes are suitable for babies aged around 3 or 4 months, as soon as they're becoming aware and interested in the world around them, up to children aged 5 or 6 years.
Every teacher at Little Piccolos is a trained musician and we use the Kodaly approach to help little ones to learn about rhythm, pitch and dynamics.
Join class teacher Catherine at Zion, Bristol on a Tuesday morning for some musical fun! www.littlepiccolos.co.uk
MEMORIES CAFE
1st Wednesday of the month
10.30 – 12
A fun and informative monthly meet-up for people living or caring for those with dementia, memory loss or just feeling lonely or isolated.
All welcome, free entry
Cafe & kitchen open
LOCAL WRITING GROUP
Every Wednesday
1.30PM-3PM
All Welcome
Cafe open till 5pm
Kitchen open till 2pm
LOCAL HISTORY GROUP
3rd Wednesday of the month
10.30 – 12
A free drop-in local history group for anyone interested in the history of Bedminster Down/Bishopsworth.
Continuing the group originally set up by local author and historian Andy lewis.
All welcome, free entry
Cafe & kitchen open
QUIZ NIGHT at Zion
2nd Thursday of every month
Doors/bar opens 7pm, quiz starts 7.30pm

Get family and friends together to form a quiz team of up to 6 persons, £4pp.
80 questions from general knowledge to history, sport, music and more!
Cash prize for the winning team, booby prize for the losing team!
**Please bring along an item for the food bank if you can.**
SAM BULLINGHAM Gentle YOGA
Thursdays 5:30pm-6:30pm
-Can book for single weeks (As well as the term)
These weekly classes are designed to bring ease to the body/mind/heart.
What to expect:
🌿 A mindful warm up
🌿 A gentle energising flow 
🌿 Some longer held floor based postures
🌿 A nourishing wind down
These practices are suitable for all abilities.
Unsure if this is suitable for you, get in touch: sambullinghamyoga@gmail.com
Booking essential: www.sambullingham.com
Email: sambullinghamyoga@gmail.com 
Tel: 07598 240982
ZION BABIES 
1pm-2.30pm (Term Times Only)
An Informal baby meet up with breast feeding peer supporters on hand. Visiting agencies – Mothers for Mothers, Sling Library & Cranial Osteopath.
Baby changing facilities on site
Free
All Welcome
FAMILY TIME
Every Friday 3-5pm
Families are welcome to come to Zion and unwind before the weekend.
1st Friday of the month – Art
2nd Friday of the month – Chess Club
3rd Friday of the month – Board Games
4th Friday of the month – Family Karaoke
FREE ENTRY
Bar Open
All Welcome